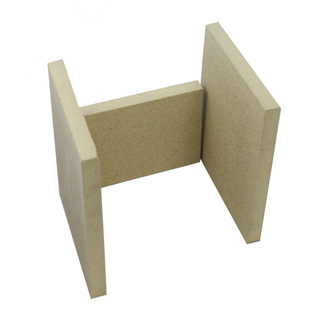 Fire Brick Liners
Fire Bricks are used to line the inside of the stove fire box. They help to insulate the internal sides, rear and top of the stove from the heat and reflect heat back towards the front of the stove, maximising heat output to the room. Most modern Fire Brick are manufactured from 25mm and 30mm Vermiculite Fire Board.
We can manufacture all sizes and profiles of Vermiculite Stove Fire Bricks onsite as well as, Baffle Throat Plates. We also provide larger sheets [900mm x 600mm] if required.
Alternatively, brands including ACR Stoves, Aga Stoves, Henley Stoves and Stanley Stoves use fireclay brick liners on some of their stove models. Lastly, Henley and Mazona use metal fire brick.
Tip: Replace all of the brick at the same time as this will allow for a best fit all around and prevent excess heat flow into the stove body.